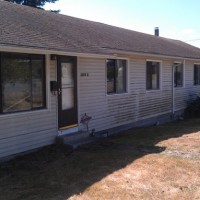 I bought a duplex today and made $5k on the day I bought it. That's right, I got PAID to buy a house, and I structured the deal a little differently than I normally do, but there is a good reason why. Here's a quick synopsis of how it was structured, and I want to give you a little private money lesson and an assignment at the end.
The property was a bank-owned duplex in Bremerton, WA. It has 3 bedrooms, 1 bath on each side and will rent for $900/mo (each side) after fixup. It needs about $15k in work to make it in great rentable condition.
I paid $90,400, which is a great price in Bremerton. Now, instead of paying my lender 6-7% simple interest like I do on my other deals, I asked if he'd like to be a 50/50 cash flow and equity partner. He agreed.
The terms of our agreement that I wrote up included $5000 that would be paid to me for acquiring the deal. I received that today.
He covered all the costs to purchase, plus will pay for remodel and any holding costs until the property is rented.
Once rented, as income comes in from tenants, expenses like taxes/insurance and any utilities will be paid from the gross rents, and then the net income after that will be split 50/50.
Why would I be willing to give up half of my equity? I have a very good reason.
My private lender and I will both receive about $750/mo NET NET NET positive cash flow, and the best part is I will never, ever, ever have a payment to make on this property. There is no mortgage, no promissory note, nothing. If the property becomes vacant, there is no negative cash flow.
We intend to hold this property for 10 years or longer, maybe we'll sell when the market is booming again, maybe not. My private lender is a big winner in this too, and he's ecstatic. He doesn't have to do any work, gets an excellent return on his money, and a huge upside when we decide to sell down the line.
Here's the teaching point for this. This deal was made possible because I had quick access to private money. The property was on the MLS, and I didn't have to do a whole lot to find the deal. Just a solid cash offer. In fact, there were two other offers that were higher than mine, but the bank chose my offer because I didn't need to have financing and I could close quickly. Private money made it possible.
It wasn't always this way. I didn't reach out to find good private lenders until my back was against the wall back in 2007 and beyond, after the market dropped and I was holding onto lots of negative cash flowing properties. I was hemorrhaging cash and realized that I had to do something, or I was going to lose everything. I had to find a way to refinance out of the 12% private money loans that I was paying, and the high interest adjustable rate mortgages that I had taken over from houses I bought earlier.
At the time, it was scary talking to people about my business, and asking for money. I kinda feel I got lucky with my first good private lender at 7% and no points. It was magic, and it started to change my outlook on private money discussions. My private lender was a very successful man, who owned dozens of properties, and he thought 7% was a great rate. If he thought it was great, maybe others would too. I started to talk to more people, and learned a few things:
The most important is your mindset.
Ingrain in your mind that you, the investor, are the PRIZE. You create deals out of thin air, you create opportunities, and people with money would be VERY FORTUNATE to have an opportunity to work with you.
Money is just a commodity, you can find it anywhere. There are millions of people in this country who have over $100k sitting in some kind of account. There's nothing special about that.
The deal…the deal is what's scarce. YOU have the ability to create the deal, and you get to choose who gets the privilege of working with you.
Of course, there are other things to learn which I will show you over time, but first you have to work on your mindset.
Here's your assignment: Pick up the book called "Pitch Anything" by Oren Klaff. Oren is a professional 'money raiser', and he deals in the BIG bucks. Multi-billion dollar deals. It's available on Kindle or iPad too. He has the best stuff on the money raising mindset and really goes deeper into what I've just mentioned. READ IT!! When you're done, let me know what you think, or just post a comment below to tell me what's on your mind now, and what your biggest private money question is.