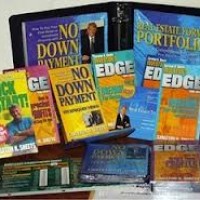 I remember when I first got excited about real estate investing.  It was back in the year 2000 when I saw a late night infomercial starting Carleton Sheets.  Carleton showed that for three easy payments of $97, you could learn how to buy properties No Money Down, and one day you too could be sitting on the beach drinking a margarita and enjoying your millions.
After seeing this informercial multiple times, I decided to plunk down the credit card and start my journey as a real estate entrepreneur.  I eagerly awaited for the CD set and workbook to arrive in the mail, and when it did I devoured the content.  If I wasn't listening in my car, I had the Sony Discman at my side and headphones on.  I was so pumped to get started, but I felt stuck taking it to that next step…which was action.  'I'm not quite ready' I thought, so I decided to listen to the whole course again, just to make sure I really knew what to do.
One of the strategies that he taught was to find motivated sellers who had assumable mortgages and offer to buy their house by assuming their mortgage payments and offer them the balance of their equity at a later date.  If the house was listed by a real estate agent, I could even ask the agent if they'd take their commission in the form of a note.  Boom, a no money down deal.
Well, after contacting a handful of sellers and real estate agents, I hit a huge roadblock.  For one, I found out that very few mortgages are truly 'assumable' (I didn't learn until later about 'subject-to' investing), and I also learned that asking real estate agents to reduce, delay, or chop up their commission into payments was not their preferred method of doing business.
My enthusiasm fizzled as quickly as it had started up.  The course found it's way onto the shelf in my bedroom, and for the next year I gave up on 'creative' real estate, opting instead to work with a real estate agent in order to find an investment.
I had recently graduated from the University of Washington with a mechanical engineering degree, and was hired on at a local computer company.  With a good job out of college, I finally had the ability to qualify for a home loan.  My goal was to buy a small multifamily property and live in one unit while renting out the others.  It was a great plan, and I soon found an awesome opportunity in Bremerton, WA.  It was a tri-plex for only $133,000.  After collecting rent and paying expenses from two of the units, I could live nearly payment-free in the third.  We presented my offer, and after some back and forth, low and behold, it was accepted!!  Holy crap, I was actually going to be a real estate investor!  It was a dream come true, but I quickly realized my dream would end….
This all occurred in September of 2001, and we all know what other event took place that month.  A few weeks after the 9/11 tragedy, and shortly before our scheduled closing date, the worst of the worst happened…I got laid off.  Ugh!!  Not only was my job gone, but so was the triplex that I was about to purchase.  I was heartbroken to say the least.
I now had new priorities, I needed to find another job so real estate got put on the back burner.  It would be nearly two years before I would get back into real estate, and little did I know it at the time, my life would change all due to a chance encounter with another investor.  (to be continued…..)
Tags: getting started